Widespread Disaster Assistance
When a major earthquake or other such event occurs, we quickly dispatch specialists to the disaster zone who have a wealth of practical knowledge and experience in disaster response. We also provide support in the form of expert advice to disaster response centers and other sites in disaster zones.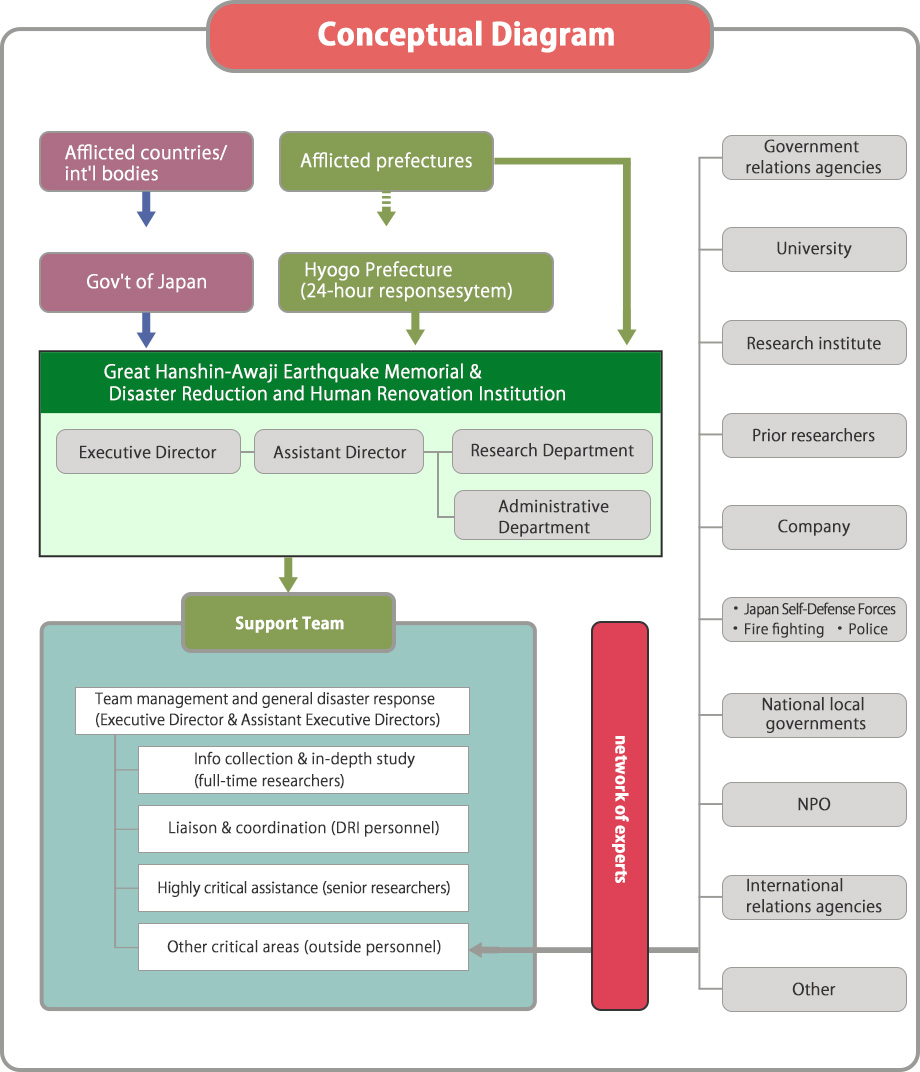 Our Work
We dispatch experts and offer assistance in the form of advice to disaster response centers and other sites in disaster zones.
Disasters we handle
Primarily earthquakes inflicting heavy damage (e.g. quakes creating large numbers of evacuees or which the government find difficult to handle; tsunamis as well)
Advice and information offered
i. Provide useful materials for decision-making
ii. Advice on setting up disaster response centers and building mechanisms for liaising with relevant institutions
iii. Information analysis and assessment
iv. Overall damage projections
v. Coordinate techniques pertaining to support systems located outside the disaster zone
vi. Techniques for planning emergency disaster response
– Assessments and advice on prioritizing emergency responses
– Assessments and advice on the type, amount and placement of assistance, such as personnel, equipment and supplies
– Liaison and coordination methods with disaster management institutions and organizations. as well as with specialists in specific fields
– Advice on the organization, capabilities, outfitting and effective placement and handling of teams on the ground
vii. Preventive measures against secondary disasters
How to characterize our assistance
Since our support team is not formed by laws or regulations and they do not possess any legal authority, their assistance goes no further than advice and the provision of information. Final decisions are taken by the directors of disaster response centers.
Our People
Team management and general disaster response (Executive Director and Assistant Executive Directors)
Info collection & in-depth study (full-time researchers)
Liaison and coordination (DRI personnel)
Highly critical assistance (top researchers)
Other critical areas (outside personnel, network of experts)
– Experts in various fields such as those at disaster management institutions
– Prior researchers at the Disaster Reduction and Human Renovation Institution
– Gradates of Disaster Reduction and Human Renovation Institution training programs
Areas of Assistance
Our assistance is advice on the following subjects, which is based on the lessons learned from the Great Hanshin-Awaji Earthquake. As needed, however, we appoint the appropriate personnel from among the Disaster Reduction and Human Renovation Institution's network of experts to expand the range of our support.
Government disaster response (disaster response center structuring, liaising with the national government and relevant institutions, certifying damage, reconstruction planning)v
Emergency evacuations (evacuee assistance, emergency shelter setup)
Rescue and emergency response (disaster medicine)
Secondary disaster response (aftershock response, landslides, earthquake-related fires)
Resource mobilization (supply base management, distribution methods, lifeline security, traffic measures)
Information-related response (information collection/analysis/provision, news media, consultation systems)
Volunteer response (volunteer coordination)
Infrastructure response (lifelines, housing, urban development)
Survivor assistance (assistance options, support for survivors in need of nursing)
Local economic response (estimating cost of damage, business restart support, employment/work related measures)

and more