Messages
Greetings from the Executive Director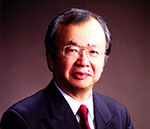 Executive Director, Disaster Reduction and Human Renovation Institute
Yoshiaki Kawata
Director, Kansai University
Professor and Director, Research Center for Social Safety Science
The DRI has the capacity to handle: training for disaster response specialists; practical disaster management research and training for young disaster management specialists; local disaster response assistance; exchanges & networks; exhibits; and data collection & preservation. However, there is one component of our practical disaster training upon which we place particular importance: training for disaster response experts.
This training, which the DRI started up in 2002, has earned high marks from participants for its curriculum and lecture content. Even the highly-regarded Central Disaster Prevention Council of Japan sees this training as a program that improves the quality of our country's disaster response personnel. And yet, to raise the content of the training to an even higher level, the DRI revamped the training system after giving due consideration to trainee assessments, their needs and requests from the public. As a result, since 2006 we have been offering a new curriculum.
Japan must prepare for the foreseeable disasters of the future such as earthquakes, torrential rains and typhoons. Another matter of great urgency is for our country to have the capacity to respond to major disasters, such as an earthquake along the Tokai, Tonankai and Nankai troughs or in Tokyo itself. In order to achieve this, I believe it incredibly vital that disaster personnel acquire the knowledge and skills they need to carry out their missions. In this training, DRI researchers receive practical and holistic instruction by planning and carrying out operations. In addition, our instructors have experience working on the front lines of disaster management. To encourage participants to join, we arrange the program so that trainees can improve their knowledge and skills at a manageable pace, and we make sure they gain pride from meeting goals and expectations.
Course
Top Forum
This course for heads of local governments provides instruction on the nature of crisis management, with a focus on natural disasters. The purpose of this course is to further improve the disaster management and crisis management infrastructure of local governments through discussion on such topics as the leadership demanded of local government leaders when responding to sudden and unexpected disasters. The Top Forum course was designed based on the knowledge gleaned from the latest research findings.
The Top Forum course is held in Hyogo Prefecture. The training curriculum was designed with assistance from other Japanese prefectures. The training is provided at the Hyogo Prefecture Government Office and elsewhere.
In addition to talks by the Executive Director and leaders in disaster management research and practice, the curriculum includes a variety of mock exercises that are based on the lessons learned and experience gained from past disasters, as well as on findings from disaster management research.
In mock exercises, instructors use documentary footage to teach trainees about hypothetical scenarios involving damage caused by earthquakes, tsunami or other major disasters. They also use this material to teach about the Great Hanshin-Awaji Earthquake. When a disaster strikes, the participants in this program need to make important decisions quickly and under circumstances that may challenge them with a lack of information or other difficulties.
The trainees in this course learn about the role a head of local government should play.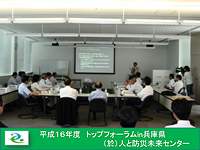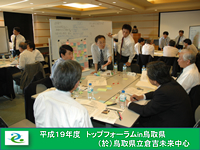 Management Courses
These courses, which provide Training for Disaster Response Experts, are designed for disaster management officials working for local governments and other such professionals.
Practical training based on lessons from the Great Hanshin-Awaji Earthquake
The emphasis of this training is on learning the lessons gleaned from the Great Hanshin-Awaji Earthquake. The content is practical, including mock exercises based on cases from real earthquakes.
Capable Instructors
Instructors in the Management Courses include the DRI Executive Director, the DRI's Senior Researchers and academics from the Japanese government, as well as government officials and volunteers who were on the front lines responding to the Great Hanshin-Awaji Earthquake.
Curriculum designed to impart the necessary disaster management skills
The ultimate goal of the Management Courses is to train personnel who will be at the center of disaster response operations.
The curriculum is set up so that trainees can improve the skills and knowledge they need as disaster management officials at a pace that suits their experience.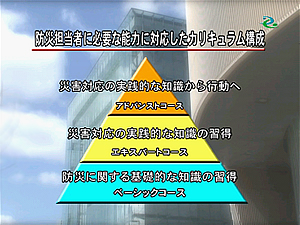 Planning and execution by specialists
The DRI's researchers are actively involved in planning and executing the training program by lending their diverse expert perspectives to its design.
Course
Objective
Created for
Management Course
Advanced
The goal of the Advanced Course is to upgrade the capabilities of advisers to local government leaders and to engage in deeper learning about matters that will require policy decisions when major earthquakes occur in the future. One way trainees do this is by interacting with researchers and sharing ideas in small groups.
Officials at local governments' disaster management and crisis management offices who may be expected to lead those offices in the future
Management Course
Expert
When a major disaster occurs, officials must carry out a variety of responses all at the same time. Trainees in this course study this topic through specific case studies of disaster responses and mock exercises. The goal is for them to gain an overall understanding of the situation and improve their ability to handle their duties.
For example, one exercise in the course has the trainees learn about exchanging information between organizations as they consider the layout for setting up a disaster response center for a local government.
Officials at local governments' disaster management and crisis management offices
Management Course
Basic
Trainees systematically study through mock exercises and lectures on basic matters. These matters include disaster response measures that are based on our experience with the Great Hanshin-Awaji Earthquake and theory relating to how disasters occur.
Relatively inexperienced officials at local governments' disaster management and crisis management offices
Special Courses
The Japanese government must respond to a wide range of disasters. There are numerous challenges confronting the many agencies on all levels of the government: national, prefectural and municipal. Among them are frontline organizations like fire departments and the Self-Defense Forces. The DRI created the Special Courses—classified as Training for Disaster Response Experts—to delve deeper into these kinds of disaster response issues. Topics and eligible participants are limited. The courses provide a practical and effective curriculum.
The purpose of this course is to enable officials engaged in running a local government's disaster response center to do their job well and better inform the public when responding to a disaster.
One major goal of this course is to teach trainees how to think so they can decide how a local government will respond as an organization to a major disaster and operate in line with that policy to actively inform the public.
We aim for a more practical curriculum they goes beyond mere drills on a map: researchers use the knowledge they have accumulated to give stimulating lectures, while trainees perform mock exercises in an inland earthquake scenario in a fictitious area by using a map exercise system developed by the DRI.